Stone veneer has been growing in popularity in recent years, and for good reason. It's a durable material that lets homeowners add the rugged aesthetic of natural stone, at a fraction of the cost. At Legend Stoneworks, we love working with stone veneer because of its versatility and natural appearance, but we also understand that the average consumer doesn't know much about it. This is precisely why we decided to dedicate today's blog post to exploring some little-known facts about stone veneer. Let's get started!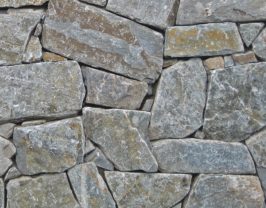 Stone veneer is derived from real stone
Sometimes, people voice concerns that stone veneer might not offer the beauty and durability of  natural stone finishes. However, this assumption could not be further from the truth. Unlike manufactured stone veneer, natural stone veneer is made of real stone.
Natural stone veneer, holds up to weather and looks just like natural stone; because it's cut from the real thing! The reason stone veneer is so versatile is because it's cut much thinner than full bed stones. Stone veneer is typically about an inch thick, whereas full stone can be up to six inches thick. This difference in thickness means stone veneer is significantly lighter in weight, meaning installing it is simpler and cheaper. Therefore, stone veneer offers the beautiful vibrancy and durability of natural stone but can be added where full bed stone might not otherwise be feasible.
Stone veneer is fire resistant
Since stone veneer is made from natural stone, it offers all the fire-resistance benefits that full stone or brick deliver. This makes stone veneer an ideal material, not only for the exterior of your home, but especially for an elegant fireplace and mantle. While manufactured materials rely on treatments for their fire resistance, stone veneer comes by it naturally. You can enjoy peace of mind while you cozy up by the fire, and rest assured that your stone veneer exterior finish protects your home year-round.
Stone veneer is insect repellent
Any building material that may be used on the exterior of your home must be carefully evaluated in terms of how well it can prevent pests from moving in. While wood and vinyl siding have improved over the years, they still wear away relatively quickly, leaving countless nooks and crevices for insects to move in. Sturdier materials like concrete, metal, and stone veneer are far and away the winners when it comes to pest control. Stone veneer's durability means it's unlikely to develop cracks where bugs and other pests might decide to move in. More importantly, though, termites will never be a concern, as stone veneer naturally stops these and other pests in their tracks.
Legend Stoneworks: Experts in Stone Veneer
The experienced masons at Legend Stoneworks know how important it is to use the right material for any project. We've installed stone veneer all across the Fraser Valley and the Lower Mainland, and we'd love to tell you more about the numerous, beautiful stone veneer patterns that can add a gorgeous, rugged look to your home – inside or out. Contact us today to learn more about how stone veneer can bring your vision for your home to life!